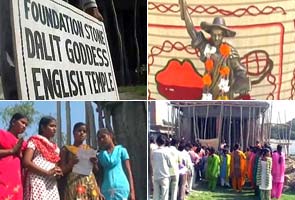 Lakhimpur Kheri (Uttar Pradesh):
In Uttar Pradesh a new religion has taken birth, Dalits in the Lakhimpur Kheri district are now worshiping the 'Goddess of English'. The followers are the Chatpatate sect of Dalits.
The idol of the English goddess is inspired by the statue of liberty. She sports a hat instead of a crown and has the Constitution of India in her hands.
"It was Dr Ambedkar's idea that we should read and write in English, which is why he always wrote in English and not in Marathi," said Amar Johar, founder of the temple.
Once complete this temple will also have a computer symbolising science.
"Without science, we Dalits cannot progress. Everything is driven by science these days," said Anuradha, a teacher.
"If we know English we will be able to get jobs and do better in life," said Anupam, a student.
But this structure may fade in comparison to Mayawati's mammoth Dalit heritage worth thousands of crores.