India's Biggest Opinion Poll: BJP set to sweep Karnataka, Rajasthan; make big gains in Bihar
NDTV.com | Updated: March 14, 2014 09:58 IST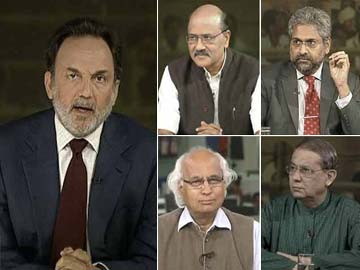 New Delhi:
Narendra Modi
's BJP looks set to exact revenge in Bihar, where its former partner and Chief Minister Nitish Kumar's Janata Dal (United) stares at a massive defeat in next month's general elections. (
Watch India's biggest opinion poll with Prannoy Roy
)
NDTV's opinion poll shows the BJP, which fought the last elections as Mr Kumar's junior partner, emerging as the big winner in the state with a likely haul of 23 of 40 seats. The JD(U), which exited the alliance last year, could have to settle for only five seats, down from 20, with the Congress set to gain too from its alliance with Lalu Prasad's RJD. (
Nitish Kumar hurts badly in Bihar
)
The BJP is also looking good in Rajasthan and Madhya Pradesh, states it won handsomely in Assembly elections held just four months ago.
(Read)
It is also unambiguously ahead in Chhattisgarh, which saw a fight to the finish in the state elections.
(BJP ahead in Chhattisgarh)
In the 12 states or 319 seats that NDTV looked at in the first part of its opinion poll, the BJP-led National Democratic Alliance or NDA looks set to get 166 seats. The UPA, led by the Congress, could have its 2009 tally brought down by half; it looks likely to win only 52 of these seats.
The NDTV survey polled over 200,000 respondents in 350 of the Lok Sabha's 543 constituencies, for which elections will be held in nine-phases starting next month.
In Delhi, where Assembly elections were held last December, the Aam Aadmi Party appeal has only gained more ground since
Arvind Kejriwal
's dramatic resignation after 49 days as chief minister. The AAP is set to win four of the capital's seven Lok Sabha seats. The BJP, which was the single largest party in the state elections, may have to settle for only two. The Congress is likely to repeat its disastrous performance of December.
But the AAP magic has not spread to adjacent Haryana; of the 10 seats, the survey gives the BJP and its partner Haryana Vikas Party seven and Congress three. (
Watch: the forecast for AAP
)
It shows powerful regional leaders like J Jayalalithaa and Mamata Banerjee holding their own in the states that they rule. Ms Banerjee is not only likely to sweep West Bengal with 80 per cent of the 40 seats, the state also prefers her as prime minister to any other leader. (
In West Bengal, it's Mamata Banerjee all the way
)
Ms Jayalalithaa's AIADMK is set to win 27 of the 39 seats in Tamil Nadu. The DMK, which had fought in partnership with the Congress in 2009, will lose big, the survey shows. The BJP's attempt at getting a toehold in the state by partnering the DMDK is unlikely to amount to much. (
NDTV Opinion Poll on Tamil Nadu
)
But neighbouring Karnataka, which threw out the BJP in state elections held two years ago, seems to be veering again towards voting saffron. The party's decision to bring home controversial prodigals like BS Yeddyurappa and B Sriramulu is likely to work for it. (
NDTV opinion poll: BJP way ahead in Karnataka
)
The Congress' Siddaramaiah is a popular chief minister, but the survey shows his party not making any gains.
More saffron next door in Maharashtra, where recent trouble in the BJP-Shiv Sena alliance is unlikely to make them falter on the way to a comfortable win over the Congress-NCP combine that has ruled the state for the last 10 years. (
NDTV opinion poll: Maharashtra set to give Sena-BJP a clear thumbs up
)
Gujarat will throw up no surprises. Mr Modi's state hopes to give India its next prime minister and will hand him a tally even better than in 2009. (
Teflon performance for Modi in Gujarat
)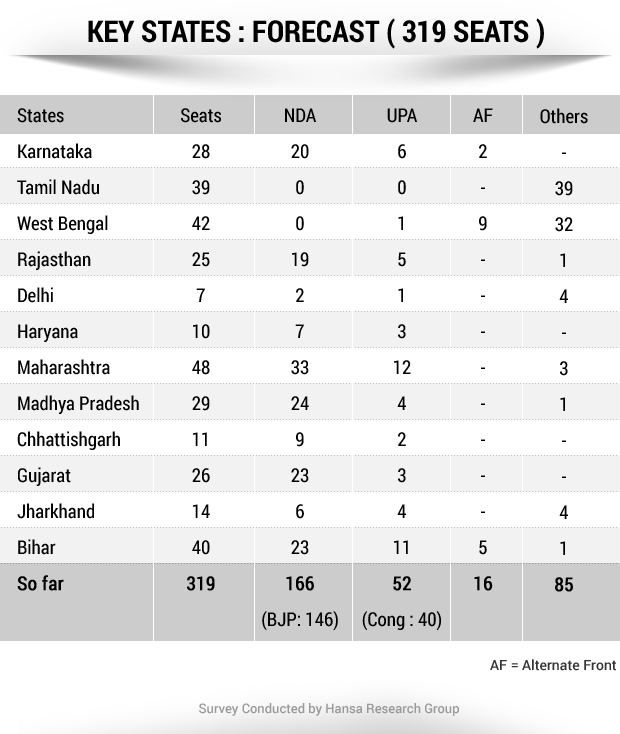 Story First Published:
March 13, 2014 21:55 IST
................... Advertisement ...................