Virbhadra Singh wins Himachal Pradesh, proves he's bullet-proof
Written by Ketki Angre, Edited by Amit Chaturvedi | Updated: December 20, 2012 17:38 IST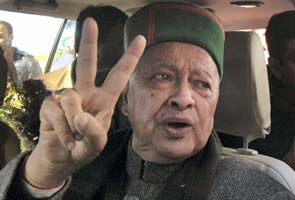 Shimla:
76-year-old Virbhadra Singh was smiling broadly even as he had tears in his eyes as he headed in an Innova car from his residence in Shimla to the Congress party office as thousands cheered on.
Mr Singh, often referred to as the Raja of Rampur because his ancestors were royalty, has served five terms as chief minister of Himachal Pradesh. He has now wrested the state from the BJP for his party, the Congress, against odds that appeared insurmountable.
Of the 68 seats in the state, the Congress, led by Mr Singh, has won 36. When asked if he's prepping to take over as chief minister, he said, "Sonia Gandhi will decide who will be chief minister. My job was to strengthen the party."
Just five months before the elections in his state, Mr Singh resigned as Union minister over corruption allegations. Then, in October this year, a scandal engulfed him after documents accessed by income tax officials listed "VBS" as the recipient of what appeared to be a large kickback from a steel company. The papers dated back to 2009-10, when Mr Singh was Steel Minister. He stridently denied any link to the company or knowledge of the alleged bribe.
Then, in a series of new economic reforms, the Union government introduced a limit on how much subsidized cooking gas families could access every year. Many within the Congress publicly acknowledged that the decision could cost the party heavily in the elections in Himachal Pradesh. During the campaign there, BJP leader Narendra Modi held up an induction heater urging voters to remember that the government had made an "anti-people" move.
The Congress was also battling major infighting. Mr Singh, perceived as a man banished from Delhi over corruption allegations, was not welcomed at party meetings. But soon after he was made the state party chief, he decided to get to work, campaigning extensively and picking candidates carefully.
Even before the final results were declared, incumbent chief minister P K Dhumal, who won his own constituency by just 9,000 votes, conceded defeat. "It seems clear which way it's heading. We hoped to break the jinx of Himachal not repeating a government. I guess it didn't work. I have already congratulated Congress leaders. We will hold a meeting to analyse where we went wrong."
His son, Anurag Thakur, who represents Himachal Pradesh in Parliament, said the BJP's big mistake was picking the wrong candidates. "We lost because of our own mistakes," he said.
It's often said that the party that wins in the Kangra region, forms the next government in the hill state. With a win in 10 out of 15 seats here, the Congress has proved that maxim right again.
What's more, the victory is a much needed morale booster for the party that lost decisively in Goa and failed to wrest power from the Akalis in Punjab. This win now, the party hopes, will blunt the BJP's anti-corruption pitch against the centre in the run up to the general elections in 2014.
................... Advertisement ...................
................... Advertisement ...................
In his first election, the 45-year-old activist turned politician defeated incumbent chief minister Sheila Dikshit in her on constituency by some 22,000 votes.
Who is Vijayakanth or Captain?
The former actor, with roles in nearly 150 films, has inked a partnership of his Desiya Murpokku Dravida Kazhagam (DMDK) with the BJP.
................... Advertisement ...................