On first day as Karnataka Chief Minister, Siddaramaiah showers sops
Press Trust of India | Updated: May 13, 2013 18:28 IST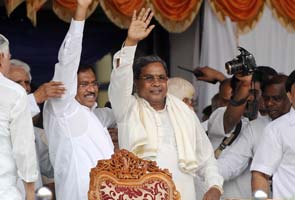 Bangalore:
Within a couple of hours after taking over as Karnataka's 22nd chief minister today,
Siddaramaiah
reiterated many of his party's campaign promises, and added a whole lot more that will cost the state another Rs 4,409 crores. (
Read: In the name of truth, Siddaramaiah sworn in as Karnataka Chief Minister
)
At a meeting, Mr Siddaramiah said 30 kg of rice at Rs 1 a month will be provided from next month, which will benefit 98 lakh people in the below poverty line or BPL category. This would entail an additional burden of Rs 460 crore annually on the state exchequer.
The chief minister also raised subsidy for milk producing farmers from Rs 2 to Rs 4 per litre, benefiting 7.5 lakh of them, with the government outgo estimated at Rs 496 crore per annum.
Subsidy for the poor for building houses in rural and urban areas would be raised from the current Rs 75,000 to Rs 1.2 lakh under various schemes, including Indira Awas Yojna.
Mr Siddaramaiah also announced a one-time loan waiver (arrears and interest) availed by SCs and STs (Rs 349 crore), OBCs (Rs 514.26 crore) and minorities (Rs 362 crore) from government-run corporations.
He said that power connections would be restored under the "Bhagya Jyothi" scheme for the poor by waiving off their Rs 268 crore arrears, benefiting 20 lakh people.
"All the relief announced today put together is to the tune of Rs 4,409.81 crore benefiting 1.38 crore people", the Chief Minister said, adding, his government would fulfill all the promises made in the manifesto in the next four years.
On how he proposed to raise resources as he said the state's finances were in bad shape, Mr Siddaramaiah said efforts would be made to curb pilferage, cut wasteful expenditure, focus on additional resource mobilisation and improved tax compliance.
He also said he saw scope for such activities even as he stressed that state debt needs to be cut.
................... Advertisement ...................
................... Advertisement ...................
In his first election, the 45-year-old activist turned politician defeated incumbent chief minister Sheila Dikshit in her on constituency by some 22,000 votes.
Who is Vijayakanth or Captain?
The former actor, with roles in nearly 150 films, has inked a partnership of his Desiya Murpokku Dravida Kazhagam (DMDK) with the BJP.
................... Advertisement ...................