In Meghalaya, Adolf Hitler and Frankenstein are among contestants in this assembly elections
Alok Pandey | Updated: February 22, 2013 02:05 IST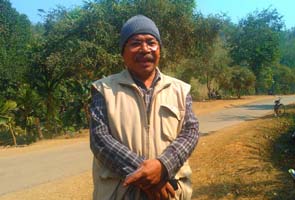 Tura: In the upcoming Meghalaya elections, Adolf Hitler is looking to secure one seat among 60 up for grabs among 345 contestants in the state's assembly. Mr Hitler, who is a member of Congress, is contesting from Bajengdoba, some 60 kilometres away from Tura, the district headquarters of West Garo Hills.

Some distance away Mr Frankenstein is also contesting on a Congress ticket. In state capital Shillong, a certain Romeo Phira Rani is a BJP candidate.

This is not a joke! Many more candidates, with unusual names, are contesting election across the state. Some others are, Hilarious Dkhar, Bombersingh Hynniewta and Boldness L Nongum.

We caught up with Mr Hitler on the last day of campaigning in the state, as he addressed a small meeting near his native village. His explanation for the unusual name is simple. "Well, my father was in the British Army. He was fond of Adolf Hitler and so he named me after him," says the jovial man, who has been a legislator in Meghalaya since 1993.

Mr Hitler says he has never had a problem with this name in his home state, but once in a while, when he travels abroad, there have been hilarious situations. "Once I was travelling to China. When I was at the immigration, they were asking me why I was named Adolf Hitler. I was even detained for an hour. And then somehow I managed to get onto my plane. When I was landing in New York they were asking me why I was named Adolf Hitler and they were smiling at me," he said.

But the veteran politician says having an unusual name has not helped him in his campaign in any way. Names like these are common in the area, and Mr Hitler says he doesn't draw any extra crowds because of his name.

Mr Hitler has three children. In his words, two children have proper Christian names while one has a proper Hindu name.

Before leaving, we asked him if he holds grudge against his parents for having named him after the German dictator. "No," says the soft spoken politician, and added, "I am happy with the name they have given me."

There is no explanation why many in Meghalaya, especially in the Garo Hills area, have these unusual names. Some historians suggest it's a hangover from the colonial legacy in the state, when many Britons frequented the state capital, preferring its temperate climate to the searing heat of the rest of India. Historians say the once-close ties with England have seen many people name their children using random English words or famous names from the past, often with no knowledge of what they might mean.

Shillong became known as the "Scotland of the East" and a steady stream of foreign missionaries and soldiers saw Christianity flourish and the English language trickle in.


Story first published: February 21, 2013 19:03 IST
................... Advertisement ...................
................... Advertisement ...................
................... Advertisement ...................