Himachal Pradesh polls: Ready to accept decision of the people, says Prem Kumar Dhumal
Press Trust of India | Updated: December 20, 2012 10:27 IST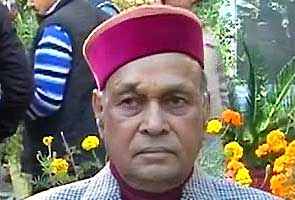 New Delhi:
As trends showed reverses for BJP in Himachal Pradesh, Chief Minister Prem Kumar Dhumal today appeared prepared even for a defeat.
"Whatever people decide is good. It would be good if they support us, and good even if they don't. I will welcome the decision of people," he said when asked to react on the declining trends of his party's seat in the state.
Earlier when the trends showed that the BJP was leading in the state, Mr Dhumal had voiced confidence of a victory in the polls.
"I am very confident (for a win)," he had said.
While Congress was leading on 29 seats, BJP after initial gains, slowed down to 23 seats in Himachal Pradesh's 68 member legislative assembly.
Asked whether BJP's performance declined due to factionalism in the party, Mr Dhumal said, "I don't comment on issues related to the organisation in the media."
................... Advertisement ...................
................... Advertisement ...................
In his first election, the 45-year-old activist turned politician defeated incumbent chief minister Sheila Dikshit in her on constituency by some 22,000 votes.
Who is Vijayakanth or Captain?
The former actor, with roles in nearly 150 films, has inked a partnership of his Desiya Murpokku Dravida Kazhagam (DMDK) with the BJP.
................... Advertisement ...................