Congress reshuffle soon: Sonia Gandhi
Reported by Sunil Prabhu, Edited by Sindhu Manjesh | Updated: December 20, 2012 19:02 IST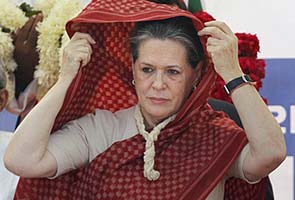 New Delhi:
Congress President Sonia Gandhi has said that a reshuffle in the party is likely to take place before the Jaipur brainstorming session scheduled for the 18 and 19 of January. Upon being asked specifically whether Rahul Gandhi's elevation will also take place before the session, she said that it would soon be made known.
The Congress party might have won the Himachal Pradesh Assembly elections but the drubbing it has received in the Gujarat elections is a major setback for the ruling United Progressive Alliance ahead of the national polls in 2014. However, Mrs Gandhi, speaking to NDTV, said "I am very happy and pleased with the Himachal results." Even though the front runner for the Chief Minister's post is veteran Congress leader Virbhadra Singh who led the party to victory as the Pradesh Congress Committee chief, sources have told NDTV that it is not yet a decided matter.
................... Advertisement ...................
................... Advertisement ...................
In his first election, the 45-year-old activist turned politician defeated incumbent chief minister Sheila Dikshit in her on constituency by some 22,000 votes.
Who is Vijayakanth or Captain?
The former actor, with roles in nearly 150 films, has inked a partnership of his Desiya Murpokku Dravida Kazhagam (DMDK) with the BJP.
................... Advertisement ...................