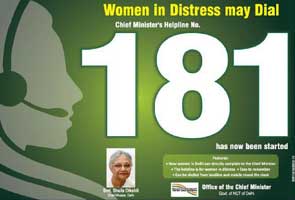 New Delhi:
Delhi woke up to a slew ads announcing that the Chief Minister's Helpline for women in distress was ready to assist. Except it wasn't.
The much-promoted '181' toll-free helpline ran into what officials described as technical glitches. By 6 pm, the helpline was up and running, sort of. It rang out when a reporter tried it, but another call placed from the NDTV office went through.
The death of a student who was gang-raped on a moving bus in Delhi engulfed India in anger, sorrow, and shame. After a 13-day fight for her life, she died in a hospital in Singapore on Saturday. Thousands of protestors have been lining the streets in Delhi and other cities vowed that her death will not be in vain. They have promised to keep the pressure on the government by campaigning extensively for better policing, and stricter and more effective anti-rape laws.
The 24x7 helpline was announced a few days ago as the government faced the wrath of a country that unsubscribed forcefully from accepting that its women will be groped in public places, harassed on buses, and sexually assaulted while an apathetic police force and administration fail to course-correct.
The number '181' can be dialled from landline and mobile phones.
The helpline will operate from the Chief Minister's office and will be connected with all the 185 police stations across the city.
(With inputs from agencies)