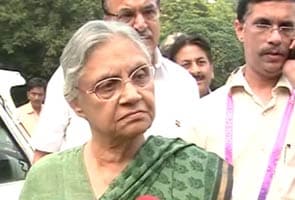 New Delhi:
Delhi has the lowest power tariff in comparison to other cities, said Chief Minister Sheila Dikshit on Sunday, reacting to a protest organised by the opposition in the wake of the recent hike in power rates.
The Delhi Electricity Regulatory Commission (DERC) only days earlier announced increase in power rates, against which the Bharatiya Janata Party (BJP) organised a protest before the chief minister's official residence and at the local levels across the city.
"The power rates are the cheapest in Delhi in comparison to NCR (National Capital Region) towns, other metro cities and states ruled by other parties in the country," said Ms Dikshit.
The power rate in Delhi is Rs 2.70 per unit while it is Rs 4.75 in Ghaziabad and Noida, Rs 4.90 in Gurgaon, Rs 4.70 in Mumbai and Rs 6.40 in Kolkata.
"Our government has neutralised the hike for poor and middle-class families by granting subsidy immediately after the power tariff was increased," added Ms Dikshit.
As per the subsidy, consumers in the bracket of 0-200 units would continue to pay Rs 2.70 per unit whereas those consuming 201-400 units would pay 80 paise less than the new rate.
Expressing dismay at the opposition claims, Ms Dikshit added: "The principal opposition, BJP, is misleading people by promising 30 per cent reduction in the rates. Meanwhile, the Aam Aadmi Party has been telling consumers to connect the snapped connections and also not to pay inflated power bills."
She was addressing people after inaugurating a transit camp that will serve the needs of devotees - Kanwadias - who undertake pilgrimage on foot to Haridwar from where they return with water from the Ganga river.