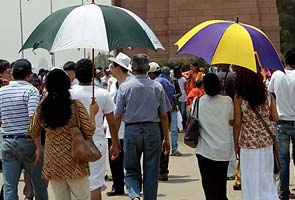 New Delhi:
Delhiites sweltered Tuesday as the maximum temperature was recorded at 44.1 degrees Celsius, five notches above average, making it the hottest day in the last five years.
"The minimum temperature too was four notches above normal (average) at 28.5 degrees," an official of India Meteorological Department (IMD) said.
The scorching summer and hot dry winds wreaked havoc on Delhiites, who were forced to remain indoors. Those who dared to venture out regretted their decision.
"It was so hot today; I felt I had been stuffed in a chimney. I could feel a burning sensation on my skin even though I was covered from head to toe," said sales executive Arjun Lamba, who commutes on a motorcycle.
Meanwhile, the met office has forecast hotter days ahead and the mercury to rise further as the week progresses.
"There is no possibility of rain tomorrow (Wednesday) and the maximum and minimum temperatures are expected to hover around 44 and 30 degrees Celsius," the IMD official added.