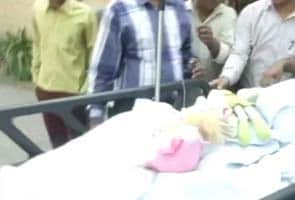 New Delhi:
A five-year-old who was kept hostage, mutilated and raped by her neighbour, is fighting for her life in Delhi. The barbarous attack on her - she was violated with pieces of a candle and a bottle - have outraged the city, triggering large protests against politicians and the police at the hospital where she was being treated.
The man who mutilated her has been identified by the police, who say that he belongs to Muzaffarnagar. Police teams have now been sent to the town in Uttar Pradesh to track him. He had moved just eight days ago into the room that he rented in a building in East Delhi where the child and her family also stayed.
This evening, the child was moved at her family's request from an East Delhi hospital to the city's famous All India Institute of Medical Sciences (AIIMS).
"This is the first time that I have seen such barbarism with a five-year-old," said RK Bansal, a doctor who treated her before she was moved. The child went missing on Monday evening while she was playing near her home and was found on Wednesday evening, battered and bleeding in the basement.
It was not the police who found her. Neighbours who heard her cries broke into the locked room. By then, the abductor had disappeared.
Offering a weak defense, the police said that it searched public parks in the neighbourhood, but did not think to search the many rooms in the building where the family lived.
When she was found, her father says the police offered him Rs. 2000 "to keep quiet". He said they advised him, "Thank God that she has been found alive."
(Read)
Those allegations and the police's insistence that it had acted promptly to help the family left protesters seething at the Swami Dayanand hospital where the child was admitted after she was found.
A police officer was caught on camera slapping a woman demonstrator; he has been suspended.
(Watch)
The protesters, many of who belonged to Arvind Kejriwal's Aam Aadmi Party, targeted politicians who visited the hospital, shouting angry slogans. A Delhi minister's car was vandalised.
Since December, when the fatal gang-rape of a student on a Delhi bus stunned and incensed the country, the city's police and government have vowed that no effort will be spared to protect women. But a slew of attacks, many of them against young girls, prove that despite the introduction of tougher anti-rape laws and pledges of better policing, little has changed for a city titled "the rape capital" of India.