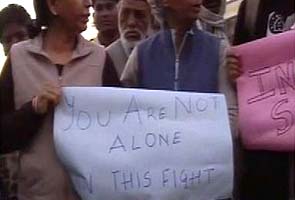 New Delhi:
Amanat (not her real name) who was gang-raped on a moving bus in Delhi has been taken off ventilator support and is now attempting to speak, her doctors said.
The 23-year-old medical student is in stable condition but her platelet count has dropped further; they are worried about a possible infection developing in her liver, they said.
The unimaginable horror of her case has enraged India, with protests being held every day to demand tougher punishment for rapists and more attention to women' s safety by the government and the police.
(Special Feature: Anger across India over gang-rape)
The woman has undergone five surgeries since she was admitted to hospital late on Sunday night. Six men have been accused of battering her with an iron rod before raping her for an hour while the bus she had boarded with a friend kept circling South Delhi roads.
Till today, she had been communicating with her parents and doctors by scribbling notes. Yesterday, she wrote "They must be punished" according to the Press Trust of India.
Doctors yesterday said that they "have never seen a case like this one" and praised the victim's "immense fighting spirit."