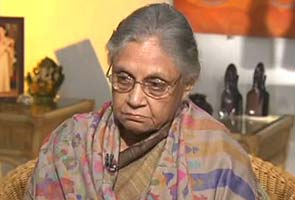 New Delhi:
Delhi Chief Minister Sheila Dikshit today launched a week-long campaign to raise awareness among the public about women safety and the various government initiatives to tackle crime against women.
Ms Dikshit flagged of three truck-mounted tableau, which on behalf of the state government will cover all the districts of Delhi highlighting women's safety issues through musical and theatrical performances.
"Respect for women is a foundation stone of a healthy society. One has to remember, where the capability of protecting forces such as police ends, the responsibility of the society starts to protect their daughter, sisters and mothers," Ms Dikshit said.
The campaign, launched ahead of 'International Women's day', marked on March 8 each year, will also display the steps taken by the government, especially encouraging the society to stand up against such crimes and to take help of the women's distress helpline number 181 whenever necessary.
Women and Child Development Minister, Kiran Walia said that the campaign is designed to focus on women's safety by highlighting the struggle of women, both at home and workplace.
The tableaux will frequent various metro stations, markets and Delhi University Campus. On International Women's day a special programme will be held at Talkatora Stadium.
When asked to express her views on the investigation in the alleged rape of a seven-year old girl in North Delhi on Thursday, Ms Dikshit refused to comment.