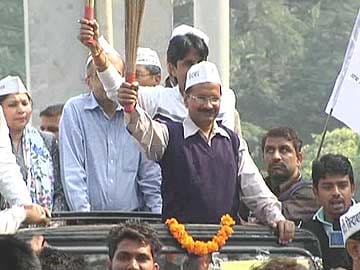 New Delhi:
Aam Aadmi Party chief Arvind Kejriwal on Saturday declared Rs 2 crore worth of moveable and immovable assets, including those of his wife, according to an affidavit filed by him.
Kejriwal filed his nomination papers from the New Delhi assembly constituency for the December 4 elections.
The New Delhi constituency will witness a triangular contest between Chief Minister Sheila Dikshit, Bharatiya Janata Party's Vijender Gupta and Kejriwal.
According to the affidavit, the value of the movable and immovable assets of Kejriwal and his wife Sunita Kejriwal is worth Rs 2,10,48,389.
In his affidavit filed with the returning officer, Kejriwal said he has two flats in his name, at Indirapuram, Ghaziabad (Uttar Pradesh) worth Rs.55 lakh and at Shivani in Haryana worth Rs.37 lakh.
While giving the break-up of his assets, he said he has cash Rs 5,000 in hand and his wife has cash Rs 10,000 in hand.
He has bank deposit worth Rs 1,62,000 while his wife has a bank deposit of Rs 16,85,000, including jewellery worth Rs 9 lakh.
She owns a house in Gurgaon near Delhi worth Rs 1 crore.
Kejriwal, who had spearheaded a movement against power tariff hike in Delhi last year and had urged residents not to pay their bills, has himself not paid his electricity bill worth Rs 23,000.
The activist-turned-politician, who had said his party will not give tickets to any person facing criminal charges, declared nine criminal cases against him, some of which entail a punishment of two years in jail or more.
However, the disclosures made by Kejriwal earlier on his party's official website had shown only two properties, one in Indirapuram and another in Gurgaon.