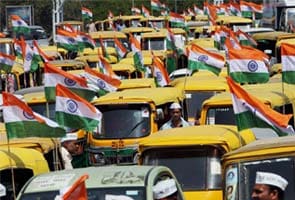 New Delhi:
Nearly 300 supporters of Arvind Kejriwal have been stopped by the Delhi Police en route to the home of Chief Minister Sheila Dikshit. Mr Kejriwal is not among them.
The supporters of Mr Kejriwal's Aam Aadmi Party (AAP) were travelling in four buses when they were stopped near the Indraprastha Metro Station in east Delhi by the cops who said Ms Dikshit was not at home.
The supporters had planned to meet the Chief Minister to hand over letters protesting against water and power bills, which Mr Kejriwal and his party say are grossly inflated.
Earlier today, they took 272 auto rickshaws - one to represent each ward or area of Delhi - and set out for the Chief Minister's home but were stopped at Bhairon Mandir in central Delhi. They then moved into buses.
Mr Kejriwal has been on a hunger strike in Delhi since March 23 demanding that the government accept that it has colluded with power companies to over-charge Delhi residents for electricity.
Doctors say he has lost seven kilos since his fast began.
Mr Kejriwal founded his party in November last year after parting with his mentor, anti-corruption activist Anna Hazare, and will contest next year's assembly elections in Delhi.