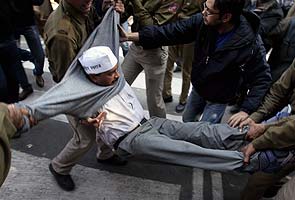 New Delhi:
Aam Aadmi Party leader Arvind Kejriwal was today detained by the Delhi Police after he led a protest march to Chief Minister Sheila Dikshit's residence. He was taken to the Parliament Street police station.
Mr Kejriwal went to the chief minister's residence to seek an appointment and discuss the demolition of 1,600 homes in Okhla. Residents whose houses were demolished two days ago accompanied him.
"The land where these people are living is theirs; they have documents. But it's unauthorised because you have to get the map passed by the government. The government cannot raze their homes like this. This is a land scam in the making; this has been done may be to give land to someone like Robert Vadra," Mr Kejriwal alleged.
"On October 4, 2010 Sonia Gandhi had announced that 1,600 colonies will be regularised. This colony is one of them. But despite that houses were demolished," he added.
There was heavy police deployment at the chief minister's residence.
(With PTI inputs)