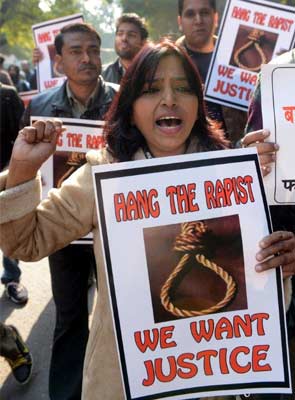 New Delhi:
The Delhi High Court today allowed the plea of two accused involved in the gang-rape of 'Amanat' (NOT her real name) to use a CD containing the interview of her friend given to a news channel as evidence in the case.
Justice GP Mittal allowed the plea of accused Ram Singh and his brother Mukesh and set aside the trial court's order by which they were not allowed to exhibit the CD of the interview telecast on January 4, as a piece of evidence.
Justice Mittal directed the trial court to "permit the accused to use the CD as evidence".
The gang-rape accused, in their plea, had challenged the trial court order which did not allow them to "exhibit, place on record and to play the impugned CD" on the ground that this was not an admissible piece of evidence.
The Delhi High Court had reserved its verdict in the case on March 5.
Earlier, the Delhi Police had opposed the accused' plea, saying the media interview of a witness is inadmissible evidence under the law.
The police had objected to the plea of the accused to use the CD as an evidence on the ground that it has been prepared in violation of a Criminal Procedure Code (CrPC) provision that restrains media coverage of the trial and inquiry proceedings related to a rape case.
On December 16 last, the 23-year-old medical student was brutally gang-raped and assaulted in a moving bus in south Delhi. She died in a Singapore hospital on December 29.
Besides bus driver Ram Singh and his brother Mukesh, the three other adult accused facing trial in the case are.