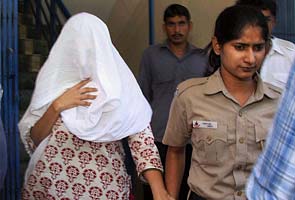 New Delhi:
Aruna Chaddha, a co-accused with former Haryana minister Gopal Kanda in the suicide of an air hostess, has moved a Delhi court seeking bail.
Chaddha's bail plea will come up for hearing on July 3 before Additional Sessions Judge M.C. Gupta. The Delhi High Court has restrained the media from naming the victim.
Chaddha and Kanda are accused of abetting the suicide of a 23-year-old former air hostess who was earlier employed in Kanda's MDLR airlines.
Charges of rape, unnatural sex and abetment of suicide were framed against Kanda and Chaddha.
Both the accused have also been charged with forgery and harming the reputation of the victim.
The trial in the case began on May 27 when the court recorded the statements of eight witnesses, including police personnel and the doctor who had conducted post-mortem of the victim.
Chaddha had also moved Delhi High Court seeking quashing of charges against her.
The air hostess was found hanging from the ceiling fan of a room at her Ashok Vihar house in north Delhi on August 5 last year.
She left behind two suicide notes blaming Kanda and Chaddha, who are now in judicial custody and have denied any involvement in the suicide.
In its chargesheet, police had said that Kanda was obsessed with the air hostess and he and Chaddha had unleashed a series of wilful and malicious acts of mental torture, threat, blackmail and stress on her, which led her to take the extreme step.
Kanda was arrested on August 18, 2012, after he surrendered at north Delhi's Ashok Vihar police. Chaddha was apprehended on August 8, 2012. Police filed the chargesheet on October 6, 2012.