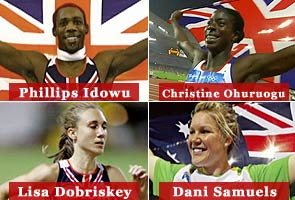 New Delhi:
The news just keeps getting worse for the organisers of the Commonwealth Games in Delhi.
A day after a foot over-bridge at Jawaharlal Nehru stadium collapsed and Commonwealth Games Federation Chief Executive Mike Hooper termed the Games Village as "filthy and uninhabitable," three top British athletes have decided to pull out of the event.
(Read & Watch: Foot over-bridge at Nehru stadium collapses)
|
(Read: Games Village seriously compromised, says Fennell)

One of them, Phillips Idowu, has given security fears as the reason for his decision. Idowu is the world triple jump champion and the also the defending Commonwealth Games champion in the same event.
Idowu also posted on his twitter account by writing 'Sorry people, but I have children to think about. My safety is more important to them than a medal.'
Besides Idowu, the other two athletes to pull out are Christine Ohuruogu and Lisa Dobriskey.
While Idowu has concerns over security preparations for the Games, Ohuruogu and Dobriskey have given injury concerns as the reason for pulling out of the Games.
Ohuruogu is the Olympic champion in the women's 400 meter event. She is also the defending Commonwealth Games champion in the event. Lisa Dobriskey is also a Commonwealth Games defending champion in 1500 meters.
The pullout by the UK athletes comes just a day after Australia's Dani Samuels, the first athlete to officially pull out of the Games due to security reasons.
(Read: Oz discus world champion pulls out of CWG)
The 22-year-old who won Gold in the Discus Throw at the World Championships in Berlin last year made the decision after Sunday's terrorist attack on tourists at Jama Masjid in Delhi.
(Also Read: Scotland delays sending CWG team to India)

Meanwhile, Chef de Mission of England Craig Hunteron Wednesday warned the Commonwealth Games organisers that time is running outfor them to clean up the preparation mess even as sports minister HughRobertson said it would be "an utter tragedy" if next month's Gamesdoes not go ahead.
Hunter demanded safety guarantees of theEnglish athletes from organisers but assured that as of now his country has no plans to pull out ofthe October 3-14 mega event.
"Time is beginning to run out. We areclose to the wire, and teams may start to take things into their own hands. Athleteswill start getting on planes soon and decisions will have to be made. We neednew levels of reassurance," he said, but added that "it's hard tocancel an event of this magnitude".
Hunter made it clear that he was not at allhappy about the unfinished work at the residential zones allocated to Englishathletes. He said 60 of the 280 rooms were leaking, while showers, airconditioning units and electrical sockets were malfunctioning.