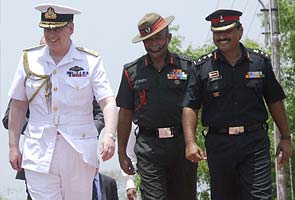 Chennai:
Reinforcing the close links between the militaries of India and Great Britain, Prince Andrew, the Duke of York visited the Officers' Training Academy in Chennai on Friday.
Prince Andrew, who is on a week-long visit to India to commemorate the diamond jubilee of Queen Elizabeth II's coronation, went around the 650-acre campus and met the next generation of young officers at the Terrain Model Room.
Dressed in his naval uniform, he paid homage at the Martyrs' Memorial in the campus and had a view from the hill-top later.
Lt Gen SS Jog, Commandant of the Academy briefed the special guest, who later met officers of the Academy.
Describing the ties between OTA and the Royal Military Academy, Sandhurst (RMAS) as "warm and growing," British Deputy High Commissioner in Chennai Mike Nithavrianakis said in March 2012, an instructor and four cadets from the OTA visited RMAS in the UK.
"In April 2012, Captain Richard Leigh-Wood led a team of four cadets on a successful reciprocal visit to the OTA. In terms of wider Indo-British links in the region, each year British Army, Navy and Air Force officers attend the Indian Staff College at Wellington in the Nilgris," he said.
Later, Prince Andrew laid a ceremonial wreath and observed a minute's silence at the Cross of Sacrifice of the Madras War Cemetery, with buglers playing a military guard of honour.
The Cemetery in Chennai has 860 graves (659 British) of those who died in World War II. The memorial wall has 1039 names (939 British) of those soldiers who died in World War I.
Group Captain Andrew McAuley,Naval and Air Adviser,British High Commission, New Delhi read out the Remembrance Prayer.
Prince Andrew later visited CSI, St Mary's Church in Fort St George to attend a special Service of Thanksgiving and Commemoration to mark the Queen's Diamond Jubilee.