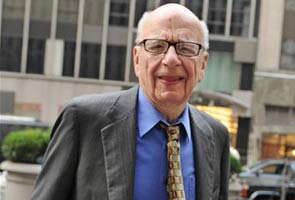 London:
British police are investigating an estimated 600 new allegations of phone hacking at Rupert Murdoch's now defunct News of the World newspaper, Britain's Guardian newspaper said on Friday.
The news comes at a sensitive time for the British media, with a divisive parliamentary vote on how to regulate Britain's famously aggressive newspapers due to be held on Monday.
Prime Minister David Cameron is pushing for a form of self-regulation, while the opposition and his Liberal Democrat coalition partners want any new regulatory framework to be backed by new legislation.
Citing unnamed sources, the Guardian said new hacking information had been obtained from the phone records of an "insider" who is now being lined up as a prosecution witness, and that more details would emerge in court on Monday.
News International, the British newspaper arm of Murdoch's News Corp
media empire, was not immediately available for comment.

Scores of celebrities, politicians, crime victims and others have sued or demanded compensation from News International since hacking revelations emerged two years ago.

Britons were shocked to learn that News of the World journalists had hacked the phone of a murdered school girl, but the practice is now known to have been more extensive.

Allegations of phone hacking have since spread to another newspaper, the Sunday Mirror, and police arrested four former editors from the tabloid on Thursday, sending shares in parent company Trinity Mirror tumbling.

The Guardian said the same insider behind new allegations of phone hacking at the News of the World also led to the arrests at the Sunday Mirror.

On Friday, British media reported that Richard Wallace, a former editor of the Daily Mirror, the Sunday Mirror's sister paper, was questioned by police but was not arrested.



© Thomson Reuters 2013