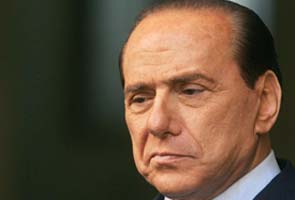 Rome:
A close ally of Silvio Berlusconi warned on Monday that his party could pull out of Prime Minister Enrico Letta's government if a Senate committee refuses to delay a decision on whether to expel the media mogul from parliament.
The cross-party committee, which must vote on whether 76-year-old Berlusconi can remain a lawmaker after being convicted last month of tax fraud, has raised fresh tensions within Letta's left-right coalition.
The committee's first meeting on Monday saw a day of tactical skirmishing as Berlusconi's centre-right People of Freedom party (PDL) sought to put off a decision on their leader's political future pending an appeal to the European Court of Human Rights.
However, members from the centre-left and the anti-establishment 5-Star Movement have rejected the call, which could delay a decision on Berlusconi's future by months, and are expected to overrule the PDL and press on with the hearing.
Renato Schifani, PDL floor leader in the Senate, said the attitude was "unacceptable" and risked precipitating a crisis when they meet again at 8 p.m. (1800 GMT) on Tuesday.
"The signals coming out of the committee point to a brick wall," he told Italian television. "If that's what happens I don't think we can talk about there being a majority backing the government," he said.
The committee is dominated by adversaries of Berlusconi from Letta's Democratic Party (PD) and the 5-Star Movement, with at least 14 members of the 23-strong panel ranged against the billionaire tycoon.
Berlusconi could not be expelled without a full vote on the floor of the upper house, but his party has repeatedly threatened to bring down Letta's coalition, potentially triggering new elections, if the PD votes against him.
So far the PD has insisted that Berlusconi cannot remain in parliament after Italy's top court convicted him of being at the centre of a vast tax fraud scheme at his Mediaset
television empire.

The PDL says Berlusconi, sentenced to four years in jail, has been targeted unfairly by left-wing magistrates, and accuses the PD of using judicial tactics to eliminate a rival it has been unable to defeat politically.

Financial markets have been increasingly on edge as political tensions escalated, pushing up government borrowing costs ahead of Thursday's auction of medium-term bonds.

"RECOVERY AT RISK"

How much of the talk of bringing down the government was brinkmanship was unclear, and Letta told reporters in Brussels on Monday that he was sure "good sense would prevail" given the clear need for political stability.

With Italy struggling with a 2-trillion euro public debt and mired in its longest recession since World War Two, business leaders have warned that political turmoil could snuff out the first glimmers of a turnaround.

The PD and PDL have been at odds ever since they were forced into an unwilling coalition following weeks of wrangling in the wake of last February's deadlocked parliamentary elections which left no side able to govern alone.

However, they have overcome apparently unbridgeable differences before, notably in last month's deal to scrap a deeply unpopular housing tax despite disagreement over how to fill a 4-billion euro annual funding gap.

Berlusconi's lawyers, who have appealed to the European Court of Human Rights, argue that the "Severino law" under which convicted politicians are ineligible for parliament, cannot apply in his case because it was passed last year, after the events for which he was convicted.

The PD has always rejected calls for the committee to delay proceedings until the European Court or Italy's own constitutional court rules on the Severino law, accusing the PDL of trying to waste time with groundless appeals.

As the manoeuvres continue, President Giorgio Napolitano, who has played a decisive behind-the-scenes role in Italian politics since the Berlusconi crisis erupted, may play a significant part again.

He has made it clear that he would be unwilling to call new elections and may seek to shepherd in a new coalition government if the centre-right withdraws support for Letta.

Whatever the outcome of the committee meeting, Berlusconi faces months in the political wilderness, which could prevent him standing in any election if the government falls.

His four-year jail term, commuted to one year because of his age, would also prevent his participation in national politics if elections are called this year.

© Thomson Reuters 2013