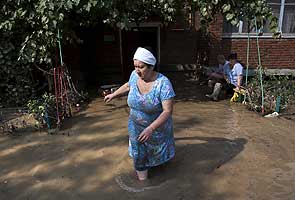 Moscow: Russian investigators on Sunday announced the arrest of three top local officials for alleged neglect of duty after the country's deadliest flood in post-Soviet times claimed 172 lives.

The Investigative Committee announced the detentions during a lightning visit to the Black Sea region of Krasnodar by its powerful chief Alexander Bastrykin, an ally of President Vladimir Putin.

It said that the mayor of the southern town of Krymsk, the head of the surrounding region and the chief of a nearby village will be kept in pre-trial detention during the ongoing investigation into the July 7 disaster.

"In the course of the investigation, Vasily Krutko, Vladimir Ulanovsky and Viktor Zhdanov have been detained," a statement said.

The committee said it believed the three men had advance notice of a dangerous storm approaching the southern region but did nothing to alert locals about a possible flood.

Most of the victims died in their sleep in the pre-dawn flooding. The regional governor later fired one of the three men placed in detention.

The flood marked the first major disaster of Putin's third term as president and saw the strongman leader pay two visits to the region in a bid to soothe public anger over what many perceived as official inaction.

Story first published:
July 22, 2012 17:32 IST