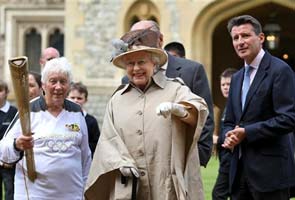 London: Queen Elizabeth II has met an old flame - the fire lit in Greece to mark the London Olympics.

The monarch carried an unopened umbrella Tuesday as torchbearer Gina Macgregor held the torch. The sodden 74-year-old runner joked about being caught in downpour and told the queen that she had "looked fine this morning."

The flame's visit to Windsor Castle came on an eventful day for the relay, which began with the torch being held aloft by Roger Bannister, the first runner to smash the 4-minute mile in 1954.

The torch is winding its way 8,000 miles (12,900 kilometers) across the country ahead of the July 27-Aug. 12 Olympics. Organizers say the flame should come within 10 miles (16 kilometers) of 95 per cent of the population.


Story first published:
July 10, 2012 22:05 IST