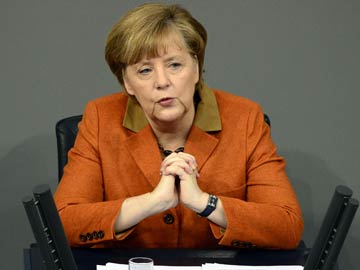 Berlin:
Berlin and Washington are still "far apart" in their views on the U.S. National Security Agency's (NSA) mass surveillance of Germany but they remain close allies, Chancellor Angela Merkel told parliament on Wednesday.
In the first major policy speech of her third term, the conservative leader said nobody doubted that domestic and allied foreign intelligence agencies helped to protect the German people from terrorism and crime.
"But does that make it right for our closest allies, like the United States or Britain, to access all imaginable data - arguing that it helps their own security and that of their partners?" she said towards the end of a one-hour speech to the Bundestag.
"Can it be right that it's not just about defending against terrorist threats but also to gain advantage over their allies, for example, in negotiations at G20 summits or U.N. sessions?"
"Our answer can only be: 'No, that cannot be right'."
Merkel warned that ceding to the temptation to "do everything that is technically do-able" led to mistrust between allies which would eventually undermine their mutual security.
"Our views are today far apart," said Merkel, who has spoken with U.S. President Barack Obama about former NSA contractor Edward Snowden's revelations of American and British surveillance of allies.
Obama told German TV earlier this month the two countries' close friendship must not be damaged "through surveillance measures that obstruct our trusting communication".
"As long as I am the President of the United States, the German Chancellor need not worry about that," Obama said one day after announcing U.S. security reforms that banned eavesdropping on allied political leaders like the chancellor.
The NSA is likely to be on the agenda of Merkel's meeting with U.S. Secretary of State John Kerry in Berlin on Friday.
"NO BETTER PARTNER"
Snowden's first revelations last June caused indignation in Germany, which is especially sensitive about surveillance after its experience of abuse by the Gestapo under the Nazis and by the Stasi in Communist East Germany during the Cold War.
Reports that the NSA even monitored Merkel's mobile phone added to the anger in Germany, which has pushed - in vain so far - for a 'no-spy' agreement with the United States.
Snowden told German TV on Sunday that the NSA also spied on German industry, such as engineering firm Siemens
. He has claimed asylum in Russia but has offered to go to Berlin to help a Bundestag probe into NSA activities.

Merkel said it was not helpful to link the NSA row to talks between Washington and the European Union about a transatlantic free trade area, adding that there was no other "leverage" the EU could use against the Americans regarding espionage other than "the strength of our arguments".

"Millions of people who live in undemocratic countries are today looking closely at how the democratic world reacts to security threats," Merkel said, adding that, for all their differences, "Germany can wish for no better partner than the United States".

© Thomson Reuters 2014