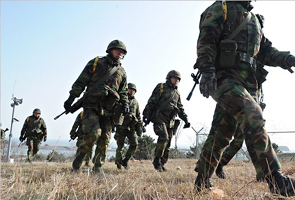 Seoul: A North Korean soldier defected to the South on Saturday through the heavily militarised border, apparently shooting dead two superior officers in the process, the South Korean military said.

It is only the fourth such defection reported in the last 10 years, with none of the past incidents involving fatal shootings, and could raise already heightened tensions ahead of the South's presidential election in December.

"Six gunshots were heard and our guards spotted a North Korean soldier crossing the military demarcation line," a spokesman for Seoul's Joint Chiefs of Staff told reporters.

"Through loudspeakers, we confirmed he wanted to defect to the South and we led him to safety," the spokesman said, adding the soldier was being held in protective custody.

Under initial interrogation, the soldier said he had shot and killed his squad and platoon leaders before making his escape.

There was no independent confirmation of any casualties, but Yonhap news agency cited an unidentified military official as saying two North Korean soldiers had been seen "lying on the ground".

There was no immediate comment from Pyongyang.

Military defections across the land border between the two Koreas are rare, with the last reported crossing by a North Korean soldier in 2010, and previous instances in 2008 and 2002.

Once described by former US president Bill Clinton as "the scariest place on Earth", the Demilitarised Zone (DMZ) that divides the Korean peninsula between North and South was created after the 1950-1953 Korean War.

Four kilometres wide and 248 kilometres long, it is a depopulated no-man's land of heavily-fortified fences, bristling with the landmines and listening posts of two nations that technically remain at war.

Today's defection occurred at the only functioning transport link across the land border, a narrow road-and-rail corridor between the South and an industrial zone where southern companies have invested on the northern side.

South Korean soldiers in the area, on the western part of the frontier, were put on alert afterwards.
Story first published:
October 06, 2012 17:53 IST