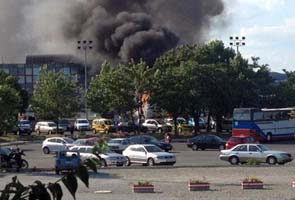 Jerusalem: Israel on Wednesday confirmed that its citizens were targeted in an attack on tourists at Bulgaria's Burgas airport, which Bulgarian officials said killed three people.

"What we know is that sometime close to 5:00 pm there was a flight that landed in Burgas, the passengers went onto a bus and then there was an explosion that we don't know the source of," said Ilana Stein, deputy spokeswoman for the Israeli foreign ministry.

"What we know is that there are casualties and probably not only injured but also dead. We know that some were Israelis but we don't know if all of them were," she told AFP.

Speaking to Israel's army radio, two Israeli tourists who were at the scene described the moment the blast occurred.

"I was on the bus and we had just sat down when after a few seconds we heard a really loud explosion," Gal Malka told the station by phone from the airport, saying the explosion took place just outside the front of the bus.

"The whole bus went up in flames," she said.

Aviva, another Israeli woman who was on a nearby bus, said she heard a "very loud explosion" and described seeing at least seven dead bodies.

"There are seven dead people," the woman told the radio, adding that she saw people whose clothes had been blown off by the blast and bodies lying on the floor.

"It was just terrible, people were jumping out of the windows," she said.

Shortly after the attack, Foreign Minister Avigdor Lieberman spoke with his Bulgarian counterpart who promised to update him on developments, the foreign ministry said.

And it said Israel was sending four diplomats to Bulgaria to coordinate.

Medics from Israel's Magen David Adom emergency services were also preparing to fly out to help with the treatment and repatriation of wounded Israelis, the organisation said.

The blast came on the anniversary of an attack on a Jewish community centre in Buenos Aires in 1994 that killed 85 people and wounded 300. The attack was blamed on Iran, which denied the charge.


Story first published:
July 18, 2012 20:51 IST