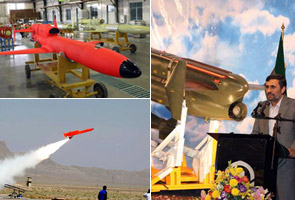 Tehran:
Iranian President Mahmoud Ahmadinejad on Sunday inaugurated the country's first domestically built unmanned bomber aircraft, calling it an "ambassador of death" to Iran's enemies.
(Read: Iran begins fuelling first nuclear reactor)
The 4-metre (13 foot) long drone aircraft can carry up to four cruise missiles and will have a range of 620 miles (1,000 kilometres), according to a state TV report - not far enough to reach archenemy Israel.
At the inauguration ceremony on Sunday, the country's national day for Iran's defence industry, Ahmadinejad said the aircraft, named Karrar or striker, was "an ambassador of death for the enemies of humanity," but added that it also "has a main message of peace and friendship."
The president championed the country's military self-sufficiency programme, and said it will continue "until the enemies of humanity lose hope of ever attacking the Iranian nation."
Iran launched an arms development programme during its 1980-88 war with Iraq to compensate for a US weapons embargo and now produces its own tanks, armoured personnel carriers, missiles and even a fighter plane.
Iran frequently makes announcements about new advances in military technology that cannot be independently verified.
State TV later showed video footage of the plane taking off from a launching pad and reported that the craft travelled at speeds of 560 miles per hour (900 kilometres) and could alternatively be armed with two 250-pound (113 kilogram) bombs or a 450-pound (204 kilogram) guided bomb.