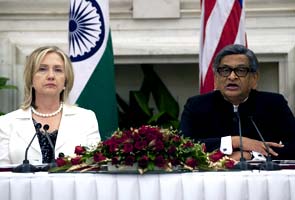 Washington: External Affairs Minister SM Krishna has said the issue of Indian-American Kairi Shepherd, who is facing the prospect of forcibly being sent back to her country of birth, was raised with US Secretary of State Hillary Clinton.

"I put it across to Secretary Clinton that the United States would have to look at it from the humanitarian point of view," Mr Krishna said on Wednesday.

"On issues like this, I think specific assurances are not given, but they have taken note of Government of India concerns that this be addressed on humanitarian basis," he told reporters at a news conference in response to a question on Kairi, for whom immigration authorities have initiated deportation proceedings.

Shepherd, 30, was adopted by a Utah woman when she was just three months old. As luck would have it, her mother died of cancer when she was eight. At 17, she was arrested and convicted of felony check forgery to fuel a drug habit.

She now faces the prospect of being deported to India, with a local court refusing to intervene in a federal government's deportation move on the ground that she is a "criminal alien".

Shepherd has termed deportation as a "death sentence" for her.

"Hence they should look at it from humanitarian point of view. I am sure, she would certainly look into it," Mr Krishna said.


Story first published:
June 14, 2012 08:32 IST