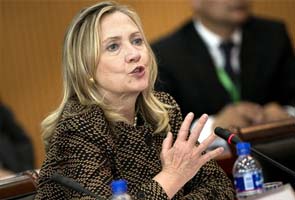 Beijing: China's state-run media hit back at US Secretary of State Hillary Clinton on Thursday for comments she made calling for greater democracy in Asia, describing her as a "preacher for human rights".

The editorial in the ruling Communist Party's People's Daily was in response to comments Clinton made while in Mongolia this week in which she urged Asian nations to embrace democracy.

The editorial in the People's Daily asked: "Who gave America the right to arrogantly criticise the status of democracy in Asia?".

It then described Clinton, who is due to meet Chinese Foreign Minister Yang Jiechi at a regional security forum in Cambodia on Thursday, as a "preacher for human rights".

The editorial also said the countries that had followed the US political model in Asia were "lagging" behind other countries.

"America is not the judge on human rights for the world and Asia. There is not a generic system that fits all countries," it said, adding the region was faring better economically than the West.

"Asian countries, particularly East Asian countries, successfully withstood the financial crisis that was caused by the Western countries, and achieved rapid economic growth," it said.

"(Asian countries) can solve their own problems and can find a path different from the West to suit their national characteristics".

In a speech in Mongolia, which borders China, on Tuesday, Clinton said she did not agree with arguments in some Asian countries that democracy was not suited to the region.

"This is the right time to talk about democracy in Asia, as many countries in this region grapple with the question of which model of governance best suits their society and circumstances," she said.

"It is true that clamping down on political expression or maintaining a tight grip on what people read, or say or see can create the illusion of security. But illusions fade, because people's yearnings for liberty do not."

Clinton did not name China, but the People's Daily editorial said the comments were clearly aimed at Beijing's rulers.

Story first published:
July 12, 2012 11:14 IST