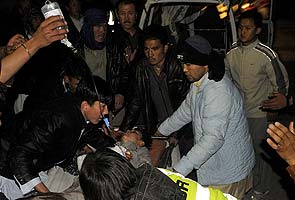 Quetta, Pakistan:
A remote-controlled bomb went off in a Shia neighbourhood in Quetta city of southwest Pakistan today, killing 52 people and wounding 200, police said.
The explosion occurred on Kirani Road, a neighbourhood of Quetta with a sizeable Shia population that has been targeted by terrorists in the past. A spokesman for the banned Sunni Muslim extremist group Lashkar-e-Jhangvi claimed responsibility for the attack.
"The death toll is increasing. At least 52 people were killed in the bomb blast," said Fayaz Ahmad, a senior police official.
Wazir Khan Nasir, a top police officer in Quetta, said all the dead were from the Hazara community. "It was a sectarian attack, the Shiite community was the target," he said.
Provincial home secretary Akbar Hussain Durrani said the dead and injured included women and children. "We fear more casualties. We have announced an emergency in hospitals," he said.
Officials described the condition of several injured as serious.
The bomb, which was planted in an auto-rickshaw, blew out windows and damaged several residential buildings and shops. Footage on television showed a plume of smoke rising into the sky after the blast.
Security forces cordoned off the area and the bomb disposal squad searched for explosives.
Officials and witnesses said an angry mob initially surrounded the area following the blast and were not allowing police, rescue workers and reporters to reach the site.
Similar attacks in the recent have been blamed on the Lashkar-e-Jhangvi. On January 10, a twin suicide attack in Quetta killed 92 Hazara Shias - the highest toll in a single attack on Shias, who make up 20 per cent of Pakistan's population of 180 million.