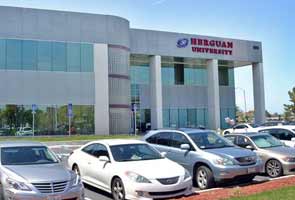 New York: Just a year after US officials shut down Tri Valley University in Sunnyvale California for a massive immigration fraud, another university has been charged with the same.

The CEO of the Herguan University, 32-year-old Jerry Wang, has been arrested by US federal agents and charged with 15 counts of visa fraud. The investigation is underway but the immigration status for about 450 students enrolled at Herguan, most of who are from India, remains uncertain.

According to the charges, this bay area university was basically a visa mill, churning out student visas for foreign students to study in the US.

Mr Wang allegedly lured students into his non-accredited school and used forged documents to obtain visas for them.

The university has 30 days to contest the revoking of its certification.

If it is closed down students will either have to enrol in an accredited school to maintain their legal status, or go home without an American degree, but after spending thousands of dollars.

Their website however says... 'Herguan University is open and conducting classes as usual! Government charges against the DSO (Designated School Official), who has resigned, regarding immigration issues, have not affected the University. Students will find classes scheduled as usual.'

This arrest comes on the heels of the Tri Valley university visa fraud that affected hundreds of Indian students who faced deportation threats when their school was shut down on similar charges. These students were found to be living in different parts of the US and claimed to be attending online classes.




Story first published:
August 04, 2012 10:29 IST