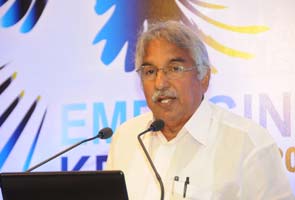 Thrissur: Kerala Chief Minister Oommen Chandy today said the tense situation created by CPI(M) workers outside a court in Vatakara in Kozhikode, where P Mohanan, district secretariat member of the party, arrested in the T P Chandrasekharan murder case, was produced, was a 'challenge' to the rule of law and administration of justice.

It was as a "great challenge" to the rule of law and administration of justice. Nobody would be allowed to challenge the judiciary and the rule of law, Oommen Chandy told reporters in Thrissur.

It was the government's duty to bring out all facts in the murder case, arrest the accused and punish the guilty, he said.

A tense situation had prevailed outside the court, where Mohanan was produced yesterday as CPI activists threw stones at police protesting the arrest prompting police to cane-charge and burst tear gas shells to disperse them.

Those who objected to the impartial administration of justice would not be spared, he said, adding, nobody would be allowed either to hinder the administration of justice or sabotage it.

The Congress-led United Democratic Front (UDF) government had no desire to wreck vengeance on the CPI, he said.

Referring to CPI state secretary Pinarayi Vijayan's statement that Congress and UDF was trying to destroy the Marxist party, Chandy said CPI cannot be destroyed by Congress, but by its own partymen.

Under the democratic set up, no political party could destroy another political party, but could only defeat other political parties, he said.

The UDF Government had neither any "vengeance nor hatred" towards CPI and also other parties, Mr Chandy said.

The probe into the murder of Marxist rebel and RMP leader T P Chandrasekharan was on the right tracks and the manner in which the investigations were progressing was satisfactory to all, including a large section of CPI workers and the opposition leader V S Achuthandan, he said.

Meanwhile, Kerala Home Minister,Thiruvanchoor Radhakrishnan urged the CPI(M) not to hinder administration of justice by calling for hartals and strikes, causing inconvenience to the public.

The CPI(M) had organised a hartal today in Vatakara protesting the arrest of Mohanan.

Arrests in the murder case of Chandrasekharan was based on the evidences and not adhering to "scripts and dialogues", he told reporters.



Story first published:
June 30, 2012 19:37 IST