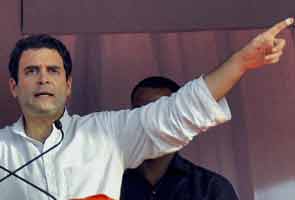 Hubli: Virtually putting the party in Karnataka in election mode, Congress general secretary Rahul Gandhi on Saturday asked partymen to stay united to remove the BJP government whose only record, he said, was corruption.

On a two-day visit to Karnataka to galvanise the party, Gandhi lashed out at the BJP government, charging that they had one record with them and that was corruption. "There is no other state more corrupt than BJP-ruled Karnataka."

Addressing a youth congress convention in Hubli, he said when one half of the state was reeling under drought, BJP was busy indulging in corruption and fighting among themselves.

He also said the central government gave funds to the state to implement pro-people's schemes, but it did not reach the common people. "The BJP leaders become rich and you (people) remain backward," he said.

Mr Gandhi, who is visiting Karnataka a month after party President Sonia Gandhi came to the state, asked his partymen to work unitedly towards ensuring the party's return to power.

"Congress is the only party which can change the fortunes of Karnataka and it is necessary for both the experienced and young party leaders to work in unison to root out BJP government from the state," he said.

Mr Gandhi's visit itself comes at a time when Congress has been jolted by the resignation of senior state congress leader Siddaramaiah from the post of Opposition leader expressing ire over the party sidelining him, indicating that the party has its task cut out to present a united front.

Erstwhile governments in Karnataka were pro-farmers, pro-Dalits, pro-poor and pro-people, but BJP government has divided the people and made them fight each other, Mr Gandhi said.

"During earlier regimes, the whole state used to move in unison," he said.

KPCC President G Parameshwar said the BJP government has brought disrepute to the state after B S Yeddyurappa became the first chief minister to be imprisoned. "The former chief minister is now facing CBI inquiry," he rued.

BJP also failed to live up to the promises made in their manifesto and failed to provide adequate power to farmers, most of whom are reeling under drought, Mr Parameshwar said.

Earlier police took some ABVP activists into preventive custody when they were shouting slogans in front of a hotel against Union Home Minister P Chidambaram, where Mr Gandhi was holding a meeting of Youth Congress workers.


Story first published:
June 03, 2012 12:41 IST