Enforcement Directorate to record Jagan's statement from July 7
Press Trust of India | Updated: July 12, 2012 20:22 IST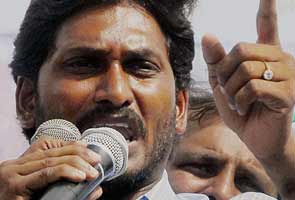 New Delhi/Hyderabad: The Enforcement Directorate (ED) will begin recording the statement of jailed YSR Congress chief Jagan Mohan Reddy inside the Chanchalguda jail in the Andhra Pradesh capital from July 7.

A joint team of ED investigators from Delhi and Hyderabad will record Mr Jagan's statement in connection with the case registered against him under the provisions of the Prevention of Money Laundering Act (PMLA).

A Hyderabad CBI special Court granted permission to the agency on July 6 to question the Kadapa MP, who was arrested on May 27 in a disproportionate assets case, with regard to alleged suspect foreign fund flow into his firms.

The ED has been allowed to question him till July 21. Sources said the agency will question the MP on the basis of the CBI FIR and the earlier questioning done by ED of the officials of Jagan's firms.

The questioning and recording of statement is expected to be done from 10 am to 5 pm in the presence of Mr Jagan's lawyers.

ED has said in the court that it wants to examine him on charges of money-laundering as a representative of Jagathi Publications.

Mr Jagan had filed a counter-affidavit in the CBI court stating that the company had appointed its secretary CPN Karthik to appear in all inquiries and legal proceedings and hence he be exempted from the questioning.
Mr Jagan's judicial remand is till July 18. He has also appealed to the Supreme court asking for his bail plea to be admitted.


Story first published:
July 12, 2012 18:52 IST