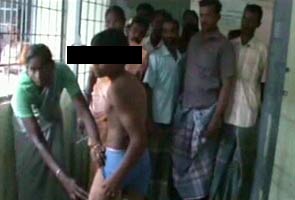 Perambalur: Three teachers of a private school in Tamil Nadu's Perambalur district have been arrested for caning a student. However the class nine student's allegation that teachers had forced him to drink urine has been found to be false. Police have registered a case of causing hurt and reciting obscene words. The District SP told NDTV that a 'full' investigation will begin soon.

The student who suffered severe bruises is undergoing treatment at a hospital in Kumbakonam. The CEO clarified that the boy's allegation that teachers forced him to drink urine has been found to be not true. The boy had earlier told the media that the teachers forced him to drink urine because he asked for permission to go to the toilet to pass urine.

The Chief Educational Officer of Perambalur district, Ms Mallika who conducted an enquiry told NDTV that the "teachers have confessed to have beaten up the boy ". She said, "According to the teachers the boy used Hans, a tobacco product on campus; he was warned twice but despite that he continued to bring it to school and even encouraged other students to use it". This, the teachers told her, "angered" them.

Although corporal punishment has been banned in India, the harassment continues in schools due to lack of sensitivity among teachers and poor enforcement.


Story first published:
July 21, 2012 14:55 IST