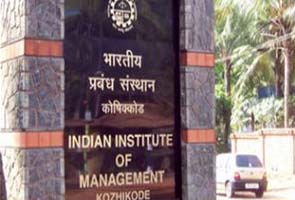 Kochi: Kerala Chief Minister Oommen Chandy today asked Indian Institute of Management Kozhikode to depute 38 of its students, who pass out this year, to be associated with each state minister to provide a 'think-tank' to governance.

Speaking at a function after inaugurating IIM-K's satellite campus, he said he has asked the IIM-K director to attach the students to each minister in his cabinet for a year.

The government would benefit with the thinking of the young generation as they would give ideas for better governance, he said.

"Kerala has to change with changing times and be in the forefront of all states", he said.

IIM-K Director, Professor Debashis Chatterjee said the programme is on the lines of the Prime minister's Research and Fellowship programme for young professionals.

Selected students will provide research support to the ministers. He said they also wanted these graduates to work for the Opposition leader and District magistrates of all 14 districts. The idea is to provide a 'think tank' to governance, he added.

Professor Debashis said he had also been approached by Uttar Pradesh Chief Minister, Akhilesh Singh Yadav. "We lend our capability to any government which approaches us", he said.

The programme will start this year. "We have said yes to the project. We are interested as it has a learning and educational component", he told reporters later.

Professor Debashis said the campus would focus on executive education with full time and part time - both long term and short term programmes for middle and senior level executives and specialised courses for executives of the IT sector.

Being inside Infopark, the campus would benefit executives there to hone their management skills, thereby enhancing the competitiveness of the Indian IT sector and boost the IT sector growth, he said.

Saji Gopinath, Dean, Development and Professor, IIM-K said the centre would offer a one year full time Executive MBA (Post Graduate programme for executives), which is a fully residential course for those with eight years of managerial experience and would cost Rs 10 lakh-12 lakh and a two year part time Post Graduate programme for Software professionals with three years' experience in software/IT company during weekends.

IIM-K is the first amongst IIMs having an internationally accredited Executive Management Education programme.


Story first published:
June 09, 2012 17:04 IST