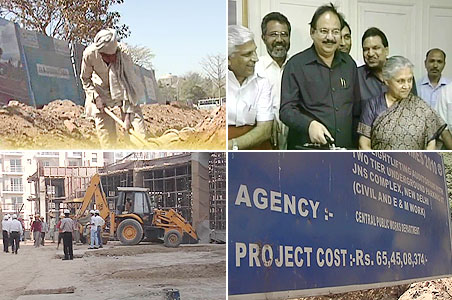 New Delhi:
When work on the Commonwealth Games began in 2006 the mega budget was Rs 22,000 crore. Four years later the budget is Rs 30,000 crore. It has swollen by nearly 40 per cent forcing the Delhi government to increase taxes and roll back crucial subsidies.
Naturally, everyone wants to know what went wrong.
Sources tell NDTV that some of it is a result of steep inflation that nobody has escaped and a lot of it can be attributed to mismanagement.
All projects have been delayed, primarily the Commonwealth Village, which had a budget of Rs 465 crore in 2004 and now Rs 1400 crore, losses have occurred also because many apartments remained unsold. The government was forced to buy them off contractors.
Traffic and communication infrastructure budget also saw a grand leap. Its budget for 2004 was Rs 40 crore and in 2010, it has risen to Rs 80 crore.
The budget for 11 stadia was Rs 1200 crore in 2004, it has risen to Rs 5000 crore and construction is way behind deadline.
Work on flyovers was altered mid-way several times and now, new unplanned additions have been made. The budget: Rs 1,650 crore.
Streetscaping is another unplanned expenditure with a budget of Rs 1,000 crore.
Security too has been an added expenditure with a budget of Rs 370 crore, but that's because of the terror scare that has pitched in recent times.
Naturally, in the light of delays, events planning is also suffering. What was to cost Rs 920 crore in 2004, now has a budget of Rs 2307 crore.
A. K. Walia, Finance Minister of Delhi says, "So many things come at the last moment. For instance, the streetscaping decision."
The State Government is looking at the international sporting event as a chance to increase their infrastructure at the same time. But it is resulting in several projects being passed which have no direct relation to the games but are eating into the budget allocated for it. For example, the Burari Redevelopment Project worth 10 crore or a slum rehabilitation project that has started in Patel Nagar.
The government says that bulk of the investments will be recovered from tourism, advertising, broadcast rights and sale of merchandise.
"We are very sure of raising the entire amount and pay it back to the Centre. Our broadcasting rights have been sold for double of what we targeted," says Lalit Bhanot, Spokesperson, Organising Committee, Commonwealth Games.
K T Ravindran, Urban Planner says, "Most countries plan the games on cost-recovery basis. Savings will come the way we use the facilities."
A K Roy, NGO Hazard Centre however, is not very optimistic, "After the Asiad Games it took them 25 years to sell off the players' buildings. It took them 20 years to sell off the Asiad Village. For this games, my guess is it will take them 40 years to break even."