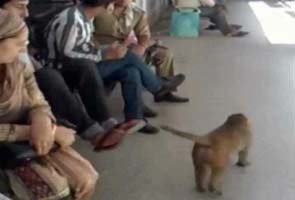 Two weeks after NDTV first reported the story of monkeys strutting inside Jammu's Government Medical College Hospital, nothing seems to have changed on the ground.

Monkeys continue roaming inside the premises, scaring away the patients.

The state government, however, says they are taking action.

"The government is taking steps to solve this menace. We have approached the wildlife department and Municipal Corporation to cooperate with us. We have also constituted a team of security guard who are on vigil 24 hours a day to keep monkeys away from the hospital premises," said Jammu and Kashmir Health Education Minister, RS Chib.

Mr Chib admitted that there has been a lapse in security. "It is the responsibility of both the government and Municipal Corporation to assure full security to patients from this menace. Hence, we have taken steps to be more vigilant and have stepped up security inside the hospital premises," he said.

The minister also alleged that the footage shot by a phone was very old.


Story first published:
July 23, 2012 10:32 IST