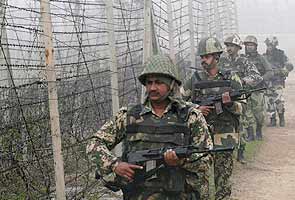 New Delhi:
The Mendhar sector in Kashmir is quiet but tense this morning and India is monitoring the situation on the Line of Control or LoC closely. Tension escalated late last night on the LoC when Pakistani troops fired again in violation of the ceasefire and India responded. The Army said small arm firing continued for about five hours, but no one was injured.
Defence Minister AK Antony said today that ceasefire violations by Pakistan were cause for serious concern. He assured that enough troops had been deployed at LoC and the government is taking all steps to protect the country's interests.
The Indian Army said it had delivered "an appropriate response" to firing from Pakistan, which claimed that it lost a soldier in "unprovoked firing" by India in the Battal area. India has sought a flag meeting between Indian and Pakistani commanders in Mendhar, but Pakistan is yet to respond.
India has said its standard operating procedure on patrolling along the LoC remains unchanged. It has also said that if Pakistan violates ceasefire again, it will respond "appropriately."
Oppositon leader in Pakistan Imran Khan, who heads the Tehreek-e-Insaf party, tweeted this morning that it was "important to keep taking the peace process forward. Both governments should quickly diffuse tension on LOC."
Yesterday, New Delhi confirmed that Tuesday's brutal killing of two soldiers by Pakistani troops will not impact the recent decision by both countries to introduce a more liberal visa process. But, as tension simmered on the Line of Control, 25 Indian trucks were stopped from entering a designated trade centre in Pakistan-Occupied Kashmir from Poonch for the cross-border trade that has been used to promote confidence and trust between the two countries. Trucks are still stranded there and the trade centre is closed.
Local Indian officials have not been able to contact their Pakistani counterparts; 21 items, mainly agricultural produce, are bartered every week between the two sides.
In the Uri sector, however, 50 Indian trucks crossed over and 37 trucks came into India from the Pakistan occupied Kashmir without hindrance, sources said.
Pakistan has denied India's claim that its troops crossed the Line of Control on Tuesday to ambush a patrol party near Mendhar, 220 kilometres north of Jammu. Two Indian jawans were killed. The head of one of the bodies had been severed.
India has asked Pakistan to investigate the "barbaric and inhuman mutilation" and has rejected Islamabad's offer of a United Nations inquiry. "We are certainly not going to agree to internationalise the issue or allow the United Nations to hold an inquiry. That demand is obviously rejected out of hand," Finance Minister P Chidambaram said after a cabinet meeting yesterday.
Leader of the Opposition Sushma Swaraj said in a series of tweets on Thursday, "The Government must go in for tough measures and we will support the Government in such decisions. It is matter of honour for the country. It is question of the morale of our armed forces."
(With inputs from Agencies)