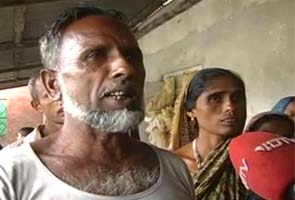 Guwahati:
As we drive into the trouble zone, the calm almost deceives us.
For over a month now, these parts of lower Assam have been tense, angry and scared. But on national highway 31, connecting Assam to North Bengal and the rest of India, there are no visible signs of hostility.
But the moment we stop at the Hapsara relief camp in Bongaigaon district, we get a sense of people's anger. What was once a lower primary school is now home to nearly 3,000 people. Mostly women, children and the elderly, cramped in what looks to be a claustrophobic space. Nearly 2.5 lakh people, both Bodos and minorities, are still in 224 relief camps. Another 2 lakh people have returned to their homes.
A central team of senior bureaucrats are visiting Kokrajhar today to find out what's keeping people in the relief camps. The team has already visited another relief camp in Dhubri where lakhs have taken shelter after the riots. The team will submit its report to the Prime Minister's Office on the arrangements being provided to the victims and what more needs to be done.
Have things improved in the last one month? "What improvement. We are all living here without any self-respect. Women and children sleeping in the verandah. There's no power and we live in darkness," says Sadiq Ali, an elderly man. Ali insists he has not seen worse days since his birth, a subtle point that he is a native.
The Tarun Gogoi government has provided water filter, hand pumps and a mobile medical unit with doctors. That will help blunt the media attack on the government, blamed for the poor hygiene in the relief camps. But a parallel debate rages. What's the genesis of the conflict? "Our lands and livelihood are being encroached by outsiders. That's led to this situation," says a young man in a relief camp. He does not want to be identified nor does he want to be photographed.
There is a sense of distrust, running deep among people who were neighbours till a few weeks ago. Something that's preventing people from returning to their villages.
Another reason for people staying put in relief camps is the large scale destruction. It will be some time before people can rebuild their lives, their homes. That was amply clear when we visited the Duramari village, just outside Kokrajhar.
The Deputy Commissioner of Kokrajhar, Jayant Narlikar, says, "Our biggest challenge is reconciliation. People have to realize the interdependence. That they need each other. We are organizing a meeting among leaders"
In Kokrajhar, one of the worst-affected districts, the Titaguri relief camp proves that women and children are the most vulnerable people in these clashes. Some of the men have returned to their villages a few days ago, but haven't taken their womenfolk.
One of them, Chandana Goiyari wonders, why can't life be the way it was." So many leaders like Sonia Gandhi and Tarun Gogoi have come but why can't we find a solution? When can we go home and lead a normal life? We don't know why this distrust. We want to live like we did before. How soon can I do that sir?" she asks.
I have no answer but only one realisation: we heard different stories in different camps but all had the same feeling. Why should people live as refugees in their own land?