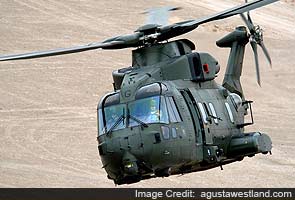 New Delhi:
The Congress-led government wants to "divert attention from the real issue" by unnecessarily dragging the National Democratic Alliance into the Rs 4000-crore VVIP chopper deal, the Bharatiya Janata Party (BJP) said today.
"First, they deny the existence of a scam; then they try to evade an answer. They try not to have an inquiry, their mission is to cover up and deflect attention to some other issue," BJP spokesperson Prakash Javadekar told reporters in New Delhi.
The BJP spokesman listed six questions for the government: "Who gave the contract for the helicopters; who received kickbacks; according to the charge sheet submitted to the Italian court, Rs.200 crore was paid to a particular family. Which one; what is the relation of the kingpin of this scam with the director of Emaar-MGF, who was involved in the CWG scam; what is known about the company IDS India, reported to have received more than Rs.100 crore; has the government sent Letters Rogatory for information?"
The Congress had stated that the chopper deal process was initiated during the NDA government's term, though it culminated under the United Progressive Alliance government. "The issue is not about changing technical specifications (of the chopper) but the fact that kickbacks were received," Mr Javadekar said.
The BJP wants investigations should be monitored by the Supreme Court or be carried out by a Special Investigative Team appointed by the court.
"Congress is notoriously known for misusing CBI for partisan political ends. That's why for BJP the suggestion of a CBI inquiry is not acceptable. Because, CBI has no credibility and the government's intention is also doubtful," senior BJP leader M Venkaiah Naidu told reporters in Hyderabad.
Replying to a query, he said Italian connections in the deal needed to be probed. "Italian connections have to be probed. Natural doubts are arising in the minds of the people. I do not want to name any individual without having direct proof."
Mr Naidu said BJP would corner the government in the coming Parliament session, adding that his party was not averse to the probe covering the period when BJP held power.
Yesterday, the government also issued a detailed fact sheet to highlight that the changes to the tender were requested by its predecessor, the BJP-led NDA coalition. The government wants to stress that the alleged scam originated when the BJP was in power; the Opposition party counters that the deal was signed in 2010 on the Congress' watch.
Jaswant Singh, the Defence Minister in the NDA government, had admitted that parameters for purchase of these helicopters, that made AugustaWestland eligible to participate in the bidding process, were changed on the directions of the then National Security Adviser Brajesh Mishra but defended the decision saying it was done to avoid a single-vendor situation.