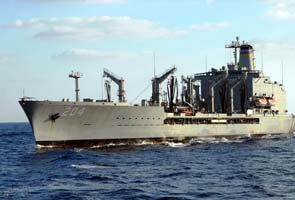 Dubai/Rameswaram: An Indian fisherman was killed and three others were wounded when a security team onboard a US Navy ship fired at their small boat off Dubai, a United Arab Emirates official said.

"The services concerned are now investigating this incident," UAE's official news agency WAM quoted Foreign Ministry official Tareq Amed al-Hidan as saying.

ABC News quoting an unnamed UAE official said the fishing boat had four Indians and two Emirate nationals on board when the incident took place in Jabel Ali, a frequent docking point for American naval vessels about 30 miles southwest of Dubai.

In Rameswaram, Tamil Nadu, Karaiyur Fishermen Association President Malairajan said the dead fisherman has been identified as Sekar of Periyapattinam in Ramanathapuram district. The injured are Muniraj, Panpuvan and Murugan who also hail from Ramanathapuram, he said, adding Munira had been admitted to hospital with bullet injuries.

Malairajan said fishermen from Ramanathapuram district were working for Dubai fishing companies on daily wage basis. Lt Gred Raelson, a spokesman for US Navy's Bahrain-based 5th Fleet, said a security team aboard the USNS Rappahannock fired from a .50-calibre machinegun on the boat after it disregarded warnings and raced towards the ship.

"The incident is under investigation," he said. Dozens of police and other Emirati officials crowded around the white-hulled motorized boat. The boat appeared to be a civilian vessel about 30 feet (9 meters) long and powered by three outboard motors. Similar boats are used for fishing in the region.

Rescue workers were seen carrying one person in a body bag off the boat and placing it in an ambulance as fishermen looked on.

Meanwhile, the Indian Embassy in Washington got in touch with the Pentagon and the State Department soon after the incident to seek its details, sources said. However, there was no immediate response from the Pentagon or the State Department.
Story first published:
July 17, 2012 01:10 IST