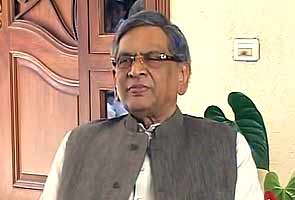 New Delhi:
Former Union minister SM Krishna, who was recently made a permanent invitee of Congress Working Committee, will skip the party's Chintan Shivir in Jaipur this week.
Sources said Mr Krishna, who also heads one of the sub-groups of the Shivir on 'India and the World (Foreign Policy)', has expressed inability to attend the party's brainstorming meet.
He has told the party leadership that he had already given his agreement to attend a programme in Vietnam.
Mr Krishna was made head of the sub-group in the last week December.
Sources close to Mr Krishna, however, said he had already given his consent to attend a conference in Vietnam on January 18 and 19 for which he was invited by that country's foreign minister.
The talk in Karnataka Congress is that 81-year-old Mr Krishna is keen on another shot in power in the state, where he had earlier been Chief Minister. As the BJP-ruled state goes to polls in the next few months, Mr Krishna wanted the party leadership to project him as its next Pradesh Congress Committee chief and chief ministerial face.
The sub-group 'India and the World', which will draft the party resolution on foreign affairs, has besides Mr Krishna, Minister of External Affairs Salman Khurshid, Anand Sharma, Shashi Tharoor, Jyotiraditya Scindia, former Mizoram Chief Minister Lalthanhawla and a minister in Jammu and Kashmir government Nawang Rigzin Jora.