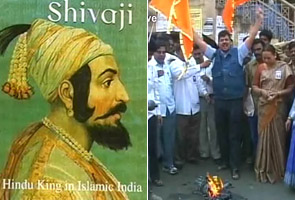 Mumbai:
The Supreme Court has lifted the ban on James Laine's controversial book on Shivaji, but the Maharashtra government, the Opposition and even the book's publishers all seem to agree that the book must not be sold in the state.
At stake is the issue of who can monopolise the Shivaji legacy and the Maratha vote, which accounts for 30 per cent of the electorate.
The Opposition Shiv Sena and the BJP made fiery references to the book today in the Assembly, forcing the House to adjourn briefly. The Speaker of the House finally agreed to the Sena's demand for a discussion on the issue.
"We will fight against any assault on Marathi pride," declared Subhash Desai, a spokesperson for the Shiv Sena.
Chief Minister Ashok Chavan was equally vehement. "The book should not be printed or published in Maharashtra." The Congress' central leadership was more cautious. "It would be far more appropriate if the question is directed to the Maharashtra Government, but we have always maintained that we do not comment on judgments which are delivered by the Supreme Court," said Congress spokesperson Manish Tewari.
Meanwhile, Oxford Press has told the Maharashtra government that it has no intention of printing new copies of the book, claims the state's Home Minister, RR Patil. (
Read: Statement from Oxford press on Shivaji book
)
'Shivaji-The Hindu King in Muslim India' was written by Laine, a professor of religious studies, and was published in 2003 by the Oxford University Press in New York and New Delhi. In 2004, soon after saffron fringe groups vandalised Pune's Bhandarkar Institute over alleged derogatory references to Shivaji's in the book, the Shiv Sena joined the protests. The Congress-led government responded by banning the book on the grounds that it could lead to communal tension. The Bombay High Court, in 2007, lifted the ban, after which the state government appealed to the Supreme Court, where it has lost its case.
(With PTI inputs)