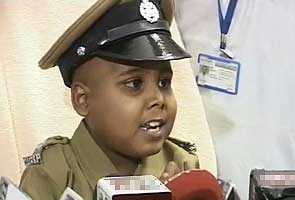 If you thought policemen were a bunch of hard hearted professionals with no time for acts of kindness, think again. An entire police station in Kolkata on Thursday played host to a seven-year-old boy whose biggest fantasy is to be a police officer when he grows up.
Of course, the boy, Suraj Binbanshi, is very special. He is suffering from lymphoblastic leukemia. He is under treatment at the Saroj Gupta Cancer Centre and Research in Kolkata.
When the NGO, Make A Wish Foundation, visited him in hospital recently and asked him what his biggest fantasy was, Saroj unhesitatingly said, a police officer.
And why? Because he wants to 'catch dacoits', Suraj said.
So at 2 pm, in pouring rain, Suraj was brought to the New Town police station at Rajarhat in Kolkata where he was given something of a guard of honour by a number of policemen. Suraj was in full uniform, khakis, peaked cap et al.
Next he was taken to an office and seated in the police officer's chair. The cops then showed him a huge range of pistols. They also gifted him one - made of plastic of course.
Said Santosh Nimbalkar, the officer who put the whole show together for Suraj, "If we are able to make him happy, make a psychological difference, it is worth it."
Suraj also visited prisoners lodged in the lock up of the police station. His message to them: please don't commit crimes! The police later said, even the prisoners were touched by the young man's story. So touched that they are sure to send up a special prayer for the young lad who is fighting such a grave illness so bravely.