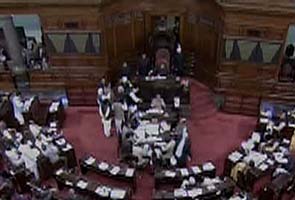 New Delhi:
This morning, the Prime Minister and leaders of opposition parties promised their cooperation to Hamid Ansari, the Chairman of the Rajya Sabha. A few hours later, that agreement was violated with Samajwadi Party members shouting and causing chaos over the proposal to reserve promotions in government jobs for Dalits and tribals.
(Track Live Updates Here)
So great was the commotion that PJ Kurien, who was presiding, asked two Samajwadi members to leave the House; they refused. He then threatened to summon marshals or guards to remove the MPS, provoking a fresh burst of shouts. The Samajwadi MPs walked out in protest, and discussions on the controversial bill began.
This session of parliament has seen aggressive tactics by both the Samajwadi Party headed by Mulayam Singh Yadav and Mayawati's Bahujan Samaj Party over the quota bill.
While Mr Yadav's party has vowed to prevent any discussion on the bill, which it is opposed to, Mayawati wants the proposal to be urgently enacted as a law. Unruly protests by both sides have been forcing adjournments of the Rajya Sabha everyday. Yesterday, in an unprecedented low for parliamentary protocol, Mayawati turned on Chairman Ansari, attacking him for failing to run the House.
The PM and others assured Mr Ansari of their faith in his ability today; Mayawati, who was unrepentant yesterday, said, "I respect you. I respect the Chair."
The Prime Minister met Samajwadi Party chief Mulayam Singh Yadav this morning to end the deadlock over the bill, but was unsuccessful in negotiating a compromise.
Neither Mr Yadav nor Mayawati participate in the government at the Centre, but provide external support to the shaky coalition. Last week, they rescued the government, facilitating an important victory in Parliament on the contentious decision to allow foreign supermarkets into India.
Dr Manmohan Singh's government, reduced to a minority since that reform was introduced, needs the support of both Mayawati and Mr Yadav to help push through important legislation.