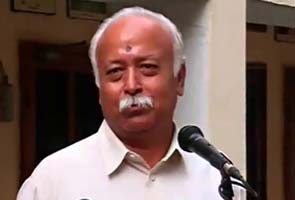 Silchar:
Rapes are rare in "Bharat" (rural India) but occur frequently in "India", said Mohan Bhagwat, chief of the right-wing RSS or Rashtriya Swayamsevak Sangh (RSS).
The organisation is the ideological mentor of the main opposition party, the BJP.
At a meet in Silchar in Assam, Mr Bhagwat said: "Such crimes hardly take place in 'Bharat' but occur frequently in 'India'."
He explained why. "You go to villages and forests of the country and there will be no such incidents of gang-rape or sex crimes. They are prevalent in some urban belts. The Indian ethos and attitude towards women should be revisited in the context of ancient Indian values," he said.
Mr Bhagwat's comments come at a time when the death of a young medical student, who was gang-raped in Delhi, has impelled introspection on attitudes towards women in a country where a rape is reported nearly every 20 minutes.
Nationwide protests, led largely by students, demanding more safety for women and new tough anti-rape laws have been matched by inexplicably misogynistic comments by an array of politicians.
After Mr Bhagwat's comments fomented fury online and criticism among activists, a spokesperson for the RSS said his remarks were being misinterpreted. "Mohan Bhagwat has condemned the act, said it is necessary to hang the culprits. Indian culture has the tradition of respecting women. If we go away from that tradition, such heinous acts happen," said Ram Madhav.
But in Madhya Pradesh, a minister in the BJP government, demonstrated the proclivity among politicians to blame women for the crimes against them. "We are forgetting our traditions and crossing our limits. I also agree with Bhagwatji's remarks," said the minister, Kailash Vijayvargiya.
(Watch - Women who cross 'Lakshman rekha' invite trouble, says BJP minister)

The BJP has said it did not approve of what Mr Vijayvargiya said. The party's national spokesperson Ravi Shankar Prasad said the minister has been asked to withdraw his comment.
Congress General Secretary and former Madhya Pradesh Chief Minister Digvijaya Singh responded sharply to Mr Bahgwat and Vijayvargiya's comments. "This reflects RSS's mentality. In Madhya Pradesh, the Chief Minister is running
beti bachao andolan
and many other schemes for women and calls himself a 'brother' to all the women. If he is thinking in interest of women then he should ask for Kailash Vijayvargiya's resignation," Mr Singh said.
Last month, Botsa Satyanarayana, head of the Congress party in Andhra Pradesh, made a shocking statement on the medical student's gang-rape. "They (women) should also think that they should not go in a private bus at night. We say we got freedom at midnight but doesn't mean we can roam around freely at midnight," he said.