New Delhi:
Pranab Mukherjee
, with
tilak
on his forehead, looked confident as he voted for the next President of India this morning. By his side, Prime Minister Manmohan Singh and UPA chairperson Sonia Gandhi too voted for their candidate, who is all set to move into Rashtrapati Bhavan soon. Mrs Gandhi said as much.
That confidence is supported by numbers, say Mr Mukherjee's poll managers - they expect almost 65 per cent of the electoral college to vote for him in the Presidential elections being held today.
Over 4000 legislators - in Parliament and in state assemblies - had voted till polling ended at 5 pm this evening. Each of them listed their preference on a ballot paper - Electronic Voting Machines (EVMs) weren't used. Out of the 699 MPs in Parliament, 21 abstained. These include lawmakers from the Telugu Desam Party (TDP) and Telangana Rashtra Samithi (TRS).
The ruling UPA has worked hard to gather together the support of its allies, friends and even some opposition parties to support Mr Mukherjee.In that 65 per cent that Mr Mukherjee is expected to poll, is the vote of the YSR Congress, otherwise daggers drawn with the Congress in Andhra Pradesh; Jagan Mohan Reddy left jail for a short while this morning to vote for Mr Mukherjee at the Hyderabad Assembly. Andhra Pradesh watchers are waiting to see if this surprise move will mean a thawing of relations with the Congress in the days to come.
(Read)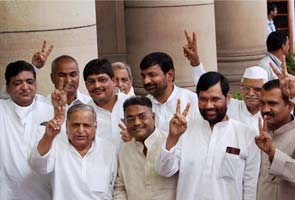 In Kolkata, West Bengal Chief Minister Mamata Banerjee voted too. For Pranab Mukherjee. In a last-minute flourish she declared on Monday that her party's 50,000 votes would be cast in favour of Mr Mukherjee after all. Ms Banerjee made it clear that she was doing so reluctantly and that it hurt her to vote for Mr Mukherjee. They are both tall Bengal leaders who have not shared the best equation for years now. Mr Mukherjee will not look a gift horse in the mouth - Ms Banerjee's reluctance cannot take away from the fact that she has added a welcome 4.3 per cent to Mr Mukherjee's swelling total.
Besides the Congress and now all its allies, four supporting parties, the Samajwadi Party (SP), the Bahujan Samaj Party (BSP), Lalu Yadav's Rashtriya Janata Dal (RJD) and the Janata Dal (Secular) have said they will vote for Mr Mukherjee. The expected victory is made sweeter by the support of key BJP ally the Janata Dal (United), the Shiv Sena and also two Left parties - the CPI(M) and the Forward Bloc.
Mr Mulayam Singh Yadav of the Samajwadi Party reportedly almost reneged on his promise to Mr Mukherjee. While voting today, he is believed to have ticked Purno Sangma's name. He reportedly caught his mistake in time, tore the ballot paper and voted afresh.
(Read)
Purno Sangma
is Mr Mukherjee's opponent in today's election. He is backed by the BJP-led NDA along with other parties, has not let his smile or confidence flag despite being the decided underdog. He has campaigned in the last month with as much rigour as did Mr Mukherjee. The latter, having shed political affinity once he resigned as Finance Minister and from primary membership of the Congress party, pulled out all stops to cash in the chips that he had collected through years of being the Congress' chief troubleshooter - a job that entailed fostering the best relations with political friends and foes alike.
To contest, Mr Sangma cut away from his party, the NCP, which as a UPA ally will vote for Mr Mukherjee. He has played the tribal card, suggesting that a tribal become President for the first time. He has the support of most of the NDA, Naveen Patnaik's Biju Janata Dal (BJD) and Jayalalithaa's AIADMK. All that support adds up to about 35 per cent of the electoral college.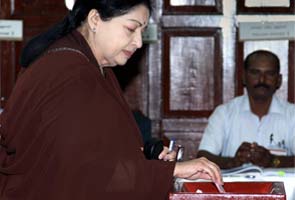 For those who came in late, the electoral college is made up of all MPs and MLAs in the country - those 4896 lawmakers who are voting today. Each MLA vote has a designated value depending on which state he or she belongs to. All MP votes have a value of 708. The total value of MP votes is 5,49,408 and the total value of all MLA votes, across India, is 5,49,474. A total 10.98 lakh votes. To win, a candidate needs 50 per cent or 5,49,442 votes if every legislator votes.
India has had 12 Presidents, Pratibha Patil is the 12th. She is also the first woman President. Rajendra Prasad became the first President of India on Jan 26, 1950.
For trivia lovers, the Rashtrapati Bhavan is the largest Presidential palace in the world. The President's official car is a custom-built heavily armoured Mercedes Benz S600 (W221) Pullman Guard. And the President earns a salary of Rs 1.5 lakh a month.