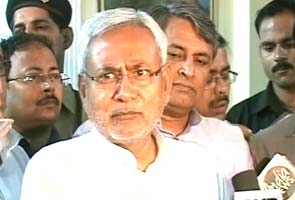 Nitish Kumar, the chief minister of Bihar, has made good on his warning to his political spouse, the Bharatiya Janata Party (BJP). His party today said that it will not back PA Sangma for president, even though the BJP has endorsed him as its candidate. Mr Kumar's MPs and state legislators will vote for Pranab Mukherjee, who is the candidate of the UPA, the ruling coalition at the Centre.

This is the first time in 16 years that the BJP and Mr Kumar's party, who both belong to the NDA coalition, have taken opposing stands on a national issue. Many believe this is a precursor of a larger divergence that's inevitable for the two parties.

Mr Kumar's stand on the presidential poll, according to sources, is influenced by his determination to distance himself from Gujarat chief minister, Narendra Modi. Mr Sangma, who has served as speaker in the past, has been heartily endorsed by Tamil Nadu Chief Minister J Jayalalithaa. She enjoys a good rapport with Mr Modi: he attended her swearing-in ceremony when she was sworn in last year; she sent emissaries to represent her at his "sadbhavana mission" fast in Gandhinagar.

So Mr Kumar, according to leaders of his party, sees Mr Sangma as a man with indirect links to Mr Modi. The BJP in Bihar said that's far-fetched, especially because Mr Kumar had made it clear many days ago that he would like to support the Finance Minister for President.

Very little has been agreed upon by Mr Kumar and the BJP in the last few days. Mr Kumar, and then his party leaders, have declared that Mr Modi is not acceptable as the prime ministerial candidate for 2014. The Janata Dal (United) says it cannot accept "a fanatic face" as NDA's candidate. It was ticked off sharply by the BJP's parent body, which said that it does not need lessons on who or what is secular.

The BJP has decided to target the UPA for corruption in the run up to the election for president on July 19. That will be embarrassing for Mr Kumar, who is supporting the ruling coalition's candidate.

Story first published:
June 21, 2012 16:00 IST